Voici des photos avec un peu de recul
Here are somme photos with a little bit of moving back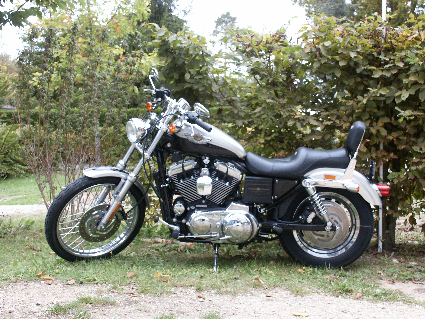 Avec l'antivol en U et l'alarme, j'ai ajouté dès le début le Sissy-bar.
With th U-lock and the alarm, I added from the beggining the Sissy bar.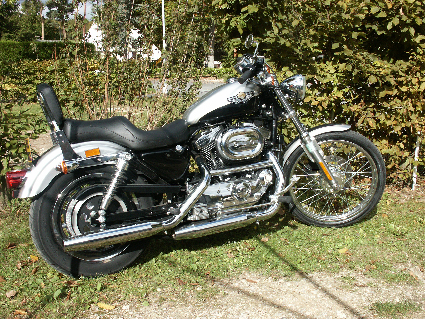 Le sportster est plus à son avantage au soleil, surtout le 1200 C avec tous ses chromes.
The sportster is at its best in sun light, above all the 1200 C with all its chromes.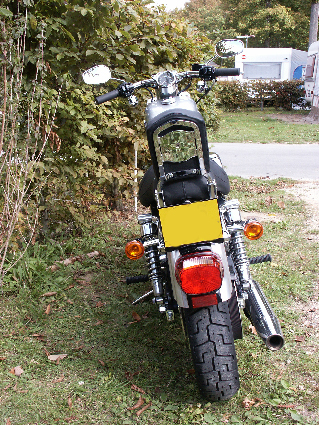 Par prudence, j'ai caché mon immatriculation. Le pneu arrière a une largeur de 130 mm.
By wariness, I hided my license plate number. The rear tyre is a 130 mm one.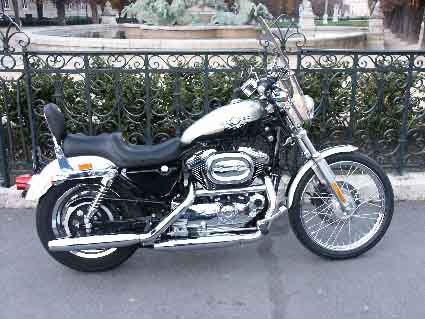 Au bout de deux mois j'ai ajouté le pare-brise.
Two monthes later, I added the windshield.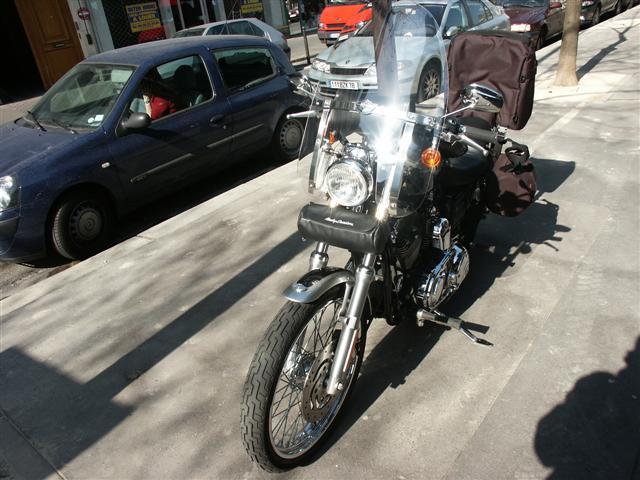 Avec le plein de sacoches, devant...
Full of bags, in front...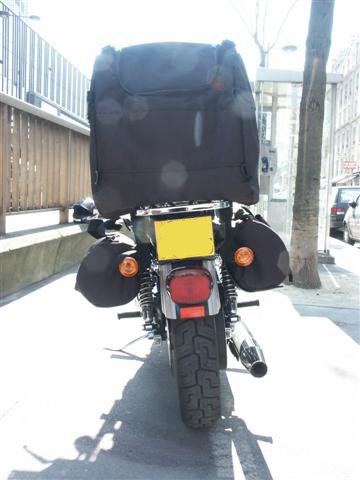 ...derrière...
...in back...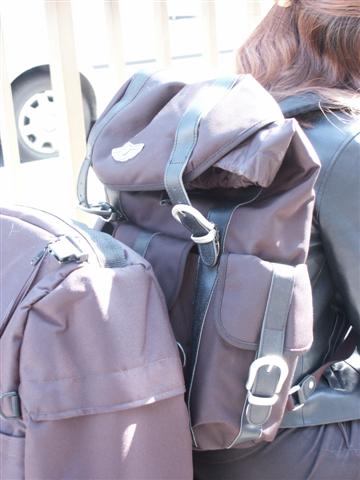 ...et même avec le sac à dos : on finira par en emmener des tas de bazar !
... even with the rucksack : we gonna bring with us a lot of stuff !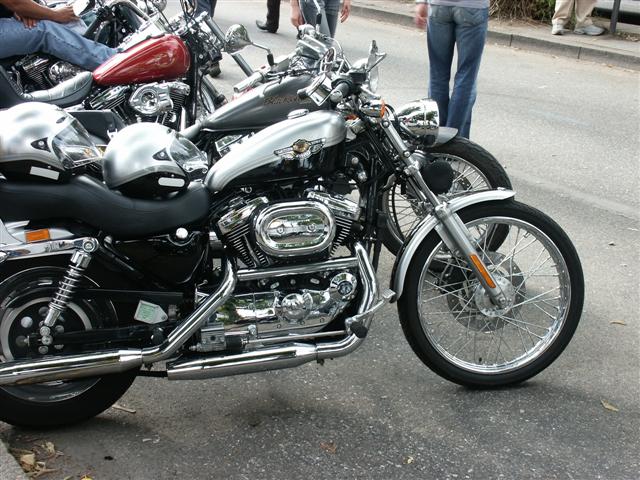 Notez les casques assortis et l'allonge de phare (Hambourg).
Please note the matching helmets and the headlamp trim ring (Hamburg).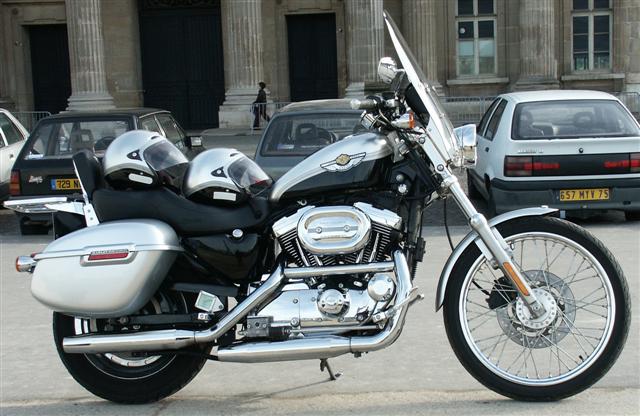 Encore mieux avec les sacoches bien sûr !
Better with the bags of course !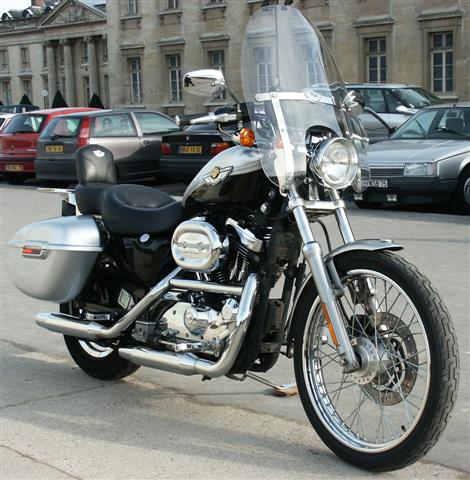 Trois quart avant ...
Three-quarter front ...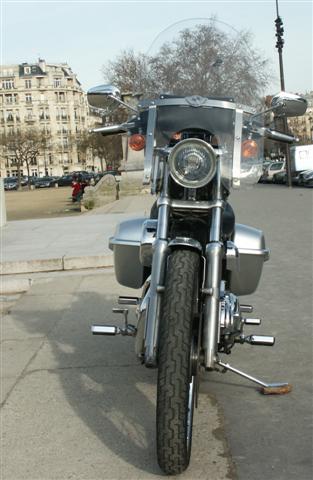 ... face ...
... front ...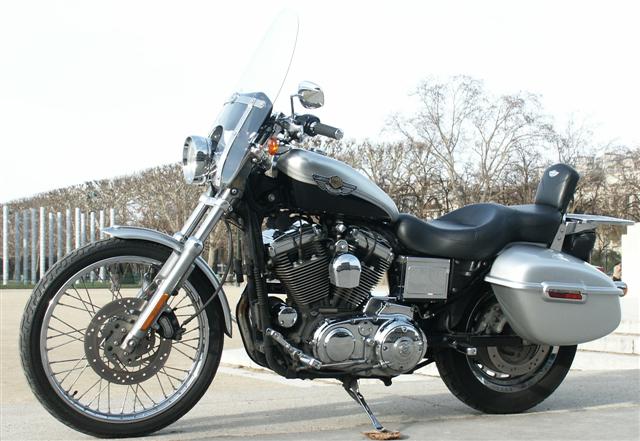 ... profil gauche ...
... left side ...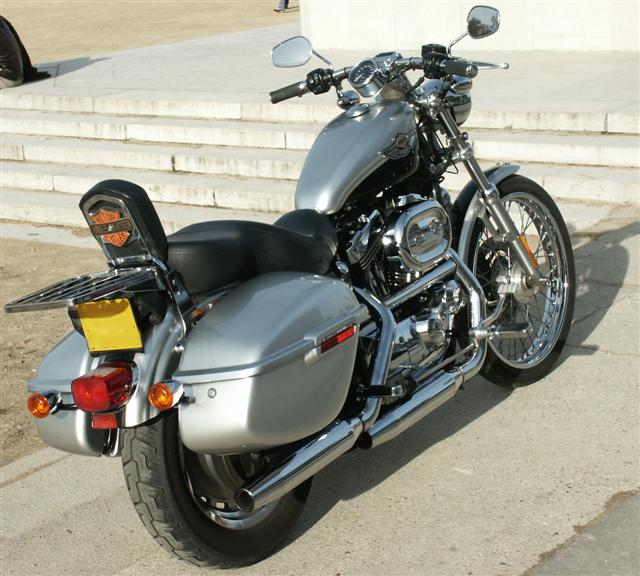 ... trois quart arrière droit ...
... three-quarter back ...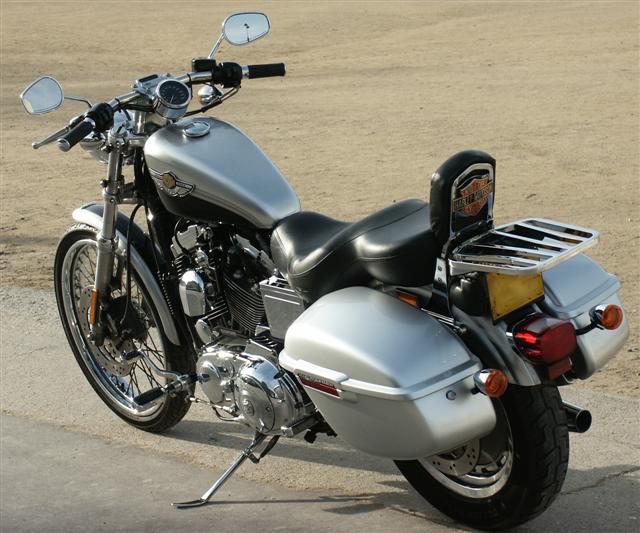 ... ou gauche ...
... left side ...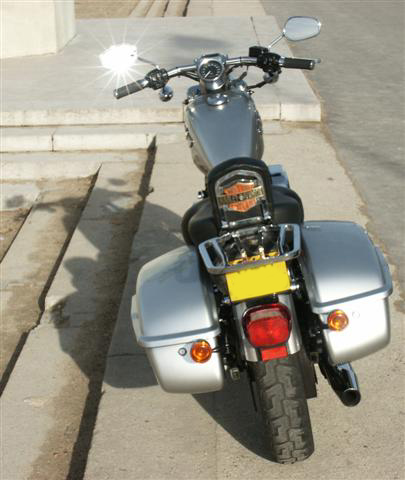 ... arrière.
... back.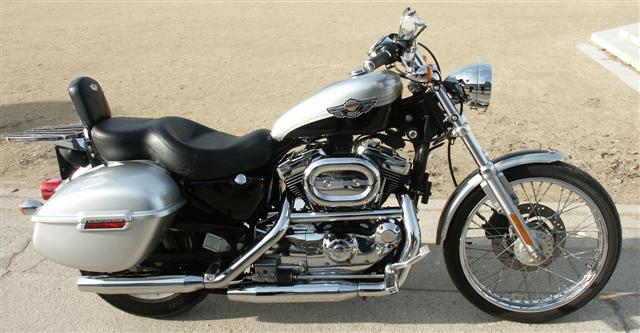 Un vrai fauve !
A real big cat !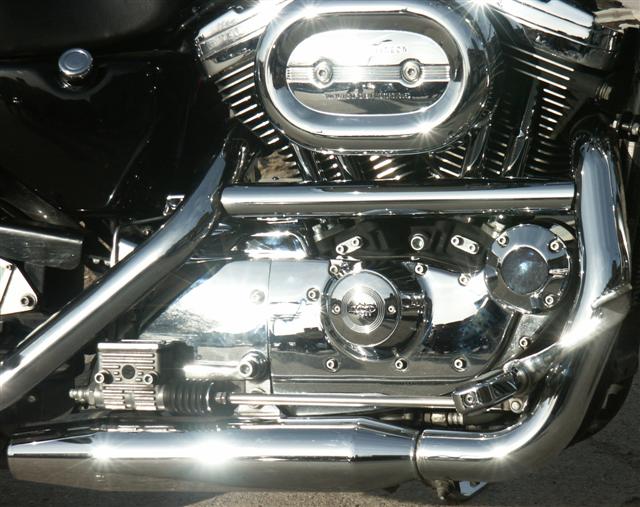 Ah, ce moteur !
Look at this motor !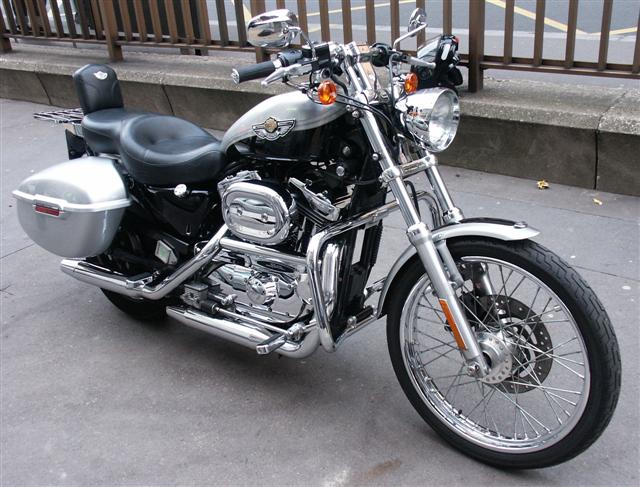 Quelques chromes plus tard, côté droit ...
Some more chromes later, on the right side ...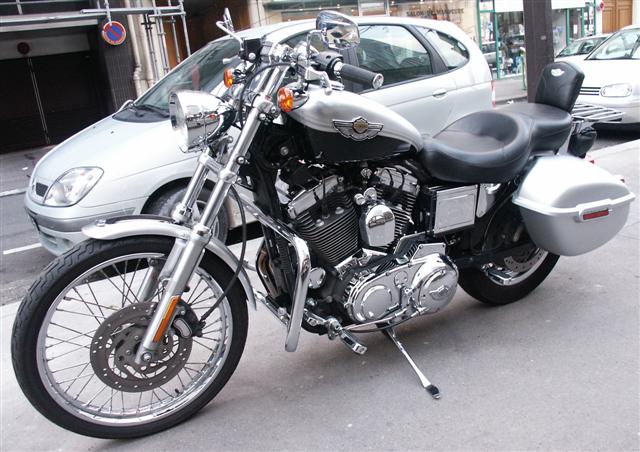 ... et côté gauche, qui en avait bien besoin !
... and the left one, which needed it a lot !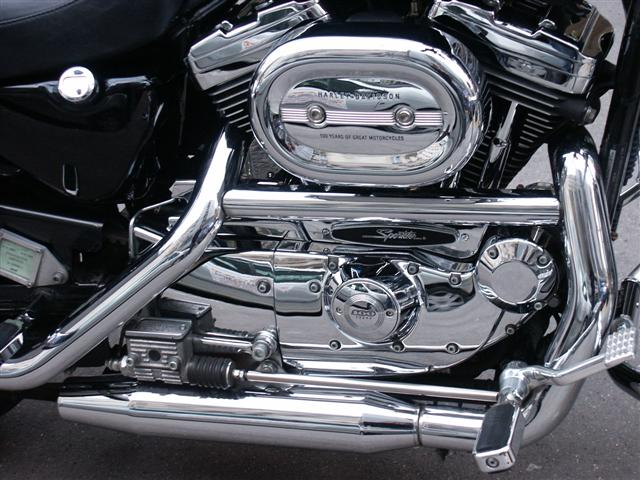 Coup de zoom à droite ...
Zoom on the right ...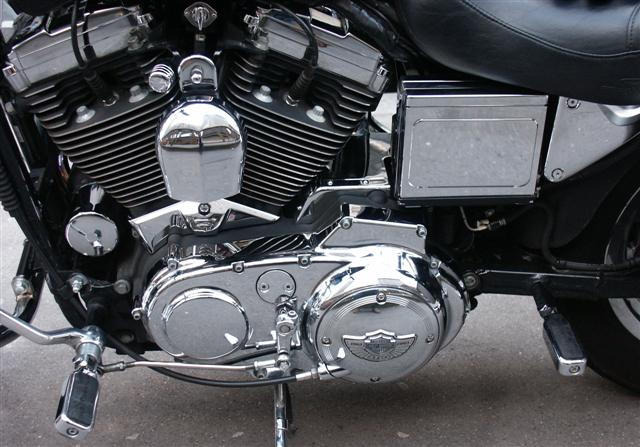 ... et à gauche.
... and on the left.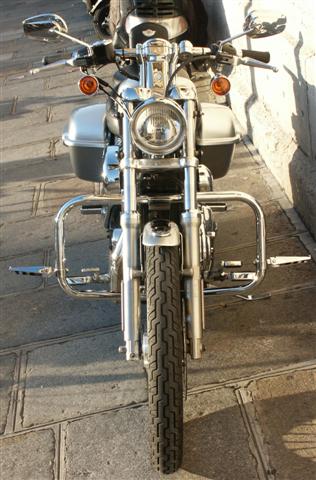 La largeur en a pris en coup avec ces repose-pieds d'autoroute.
The width is bigger with these motorway footpegs.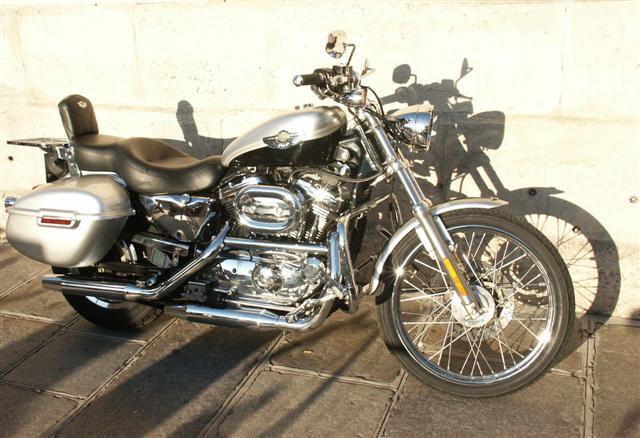 Ombres et lumières.
Shadows and lights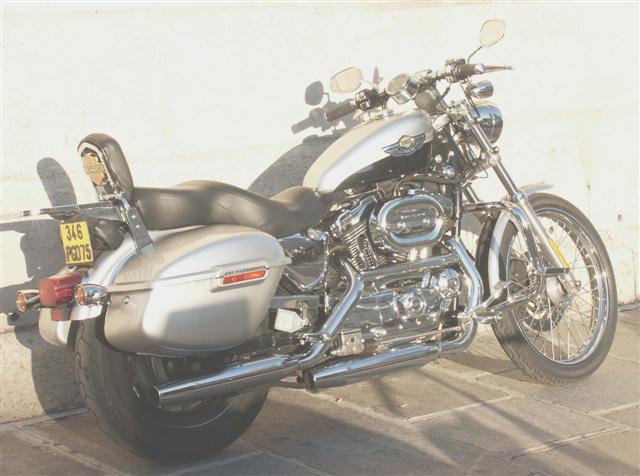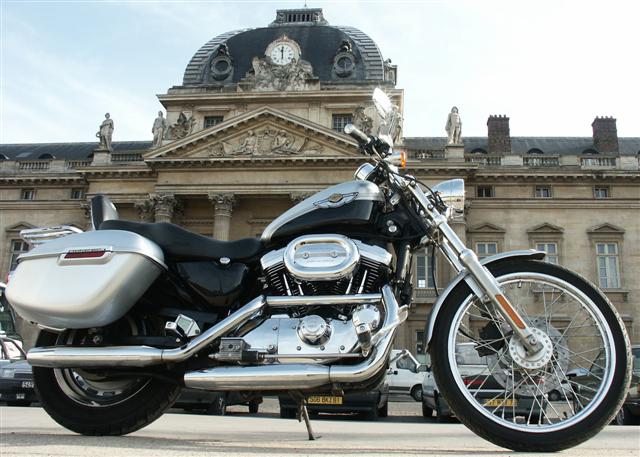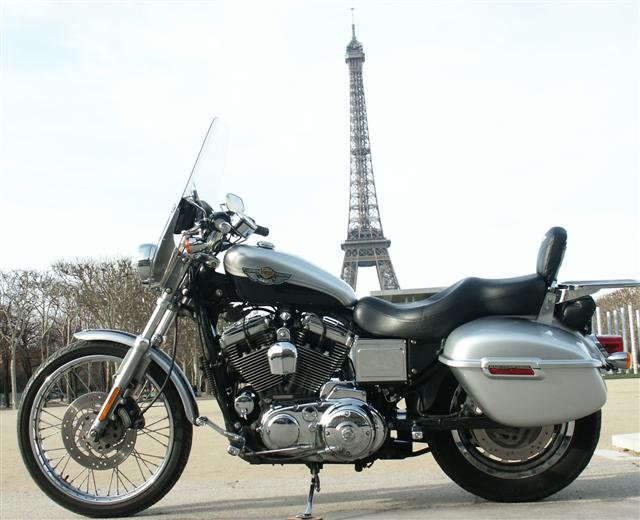 En 2005, on en était là :
In 2005, we were there :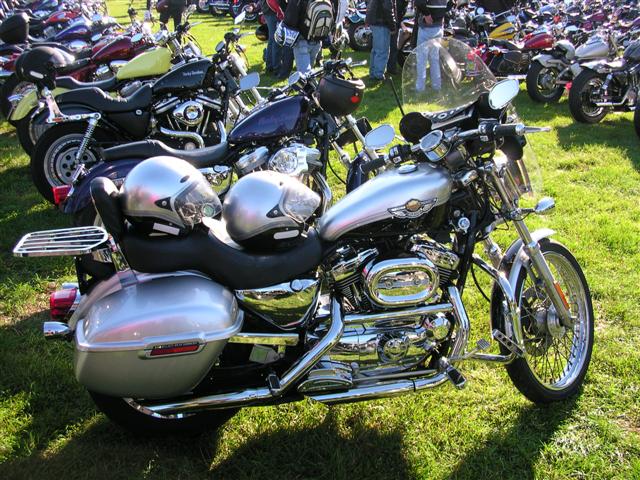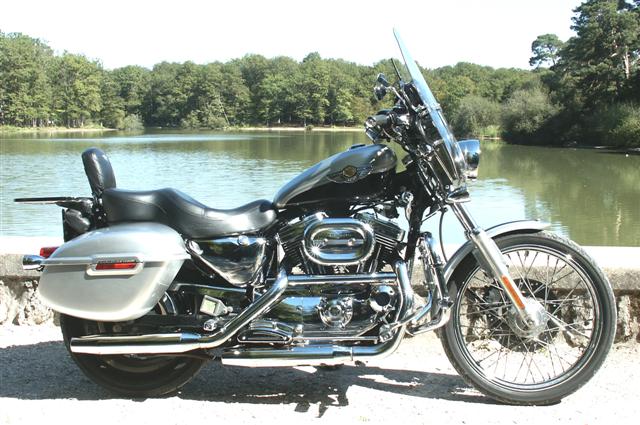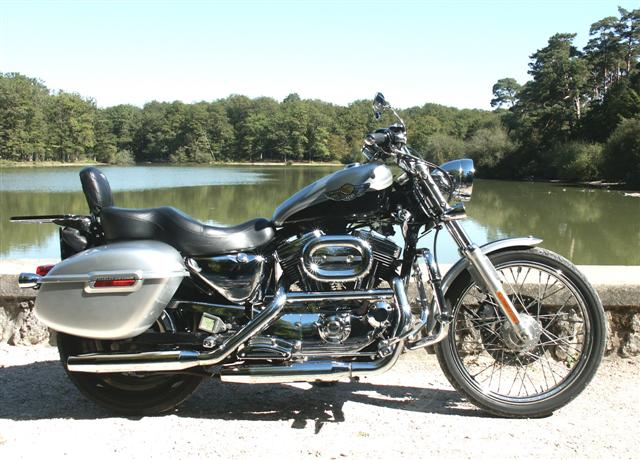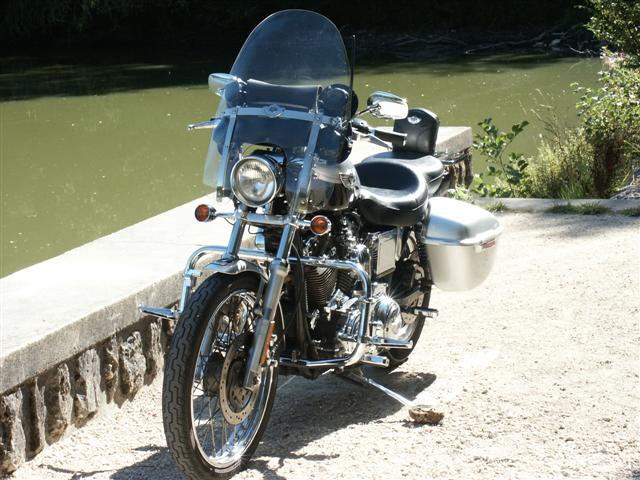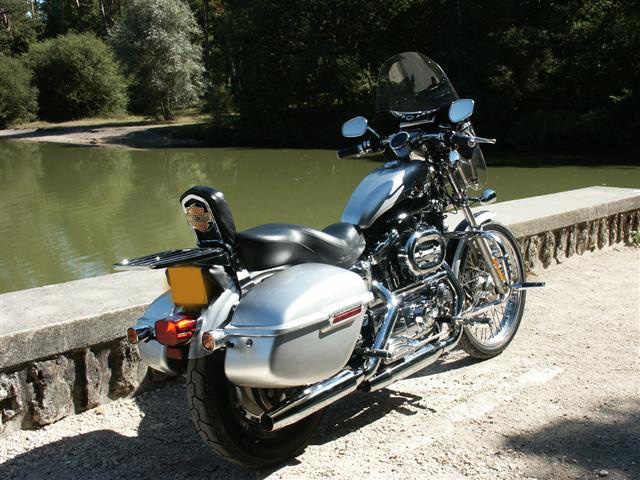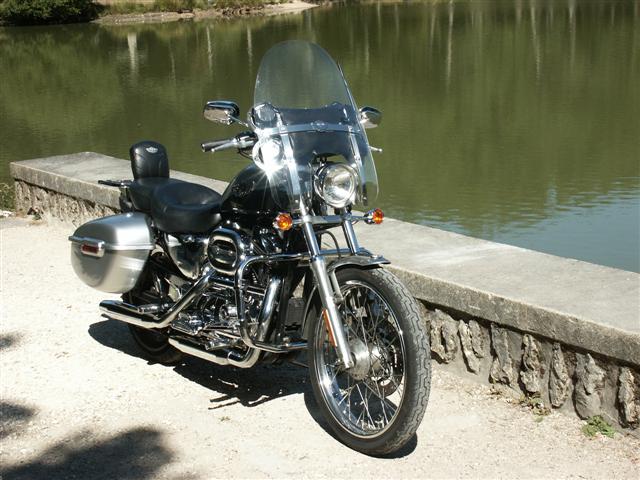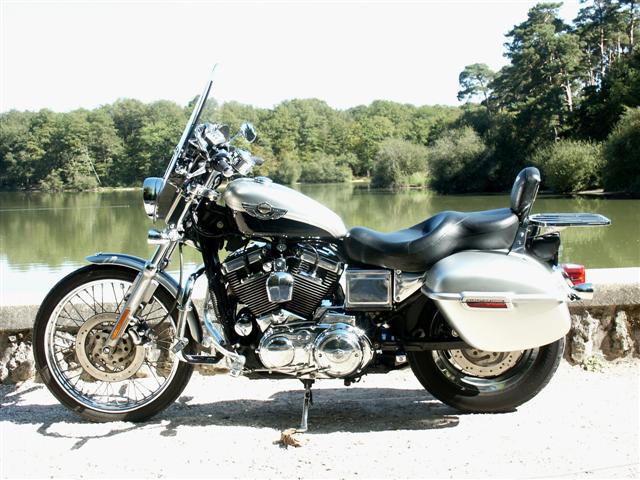 2007, changement du sissy bar :
2007, changing sissy bar :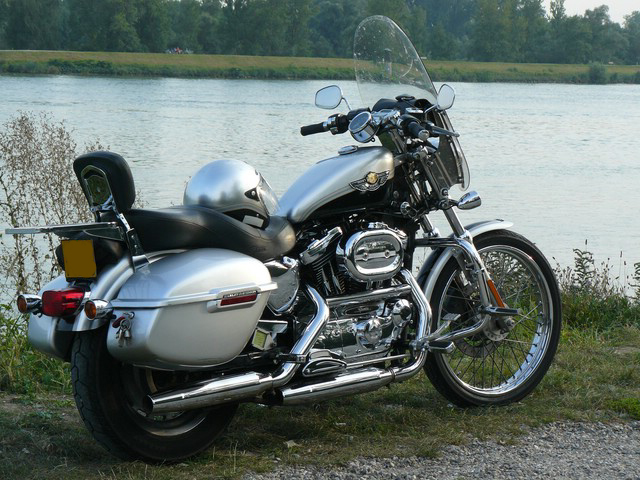 2008, avec le Sport tour-pack :
2008, with the Sport tour-Pack :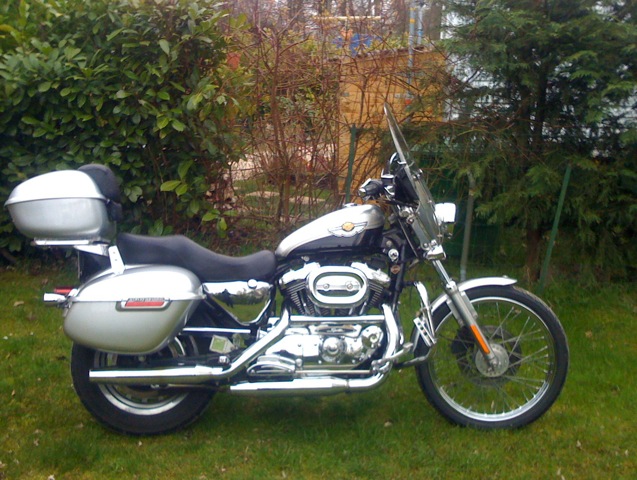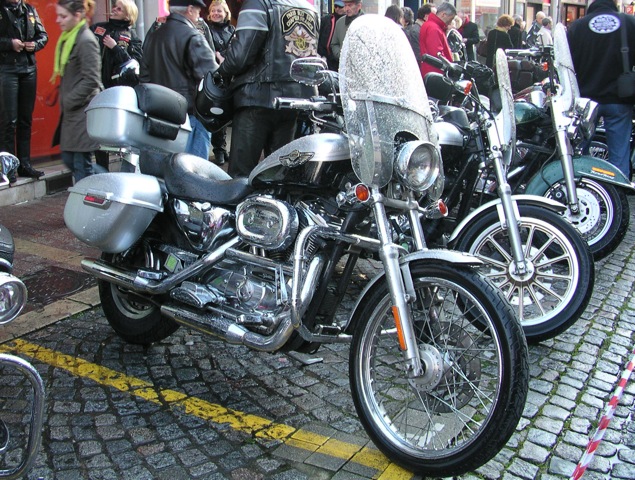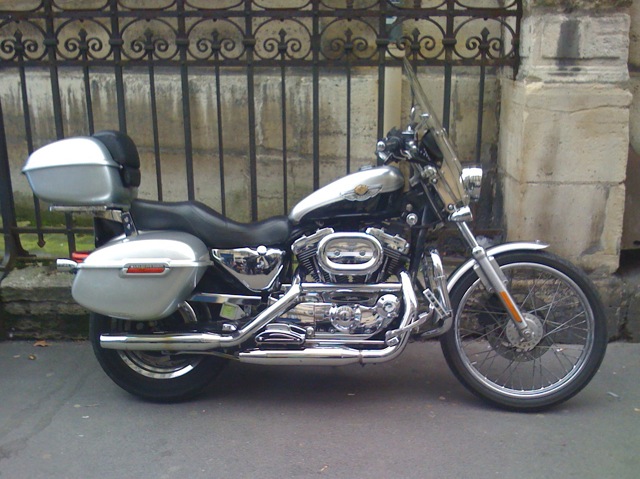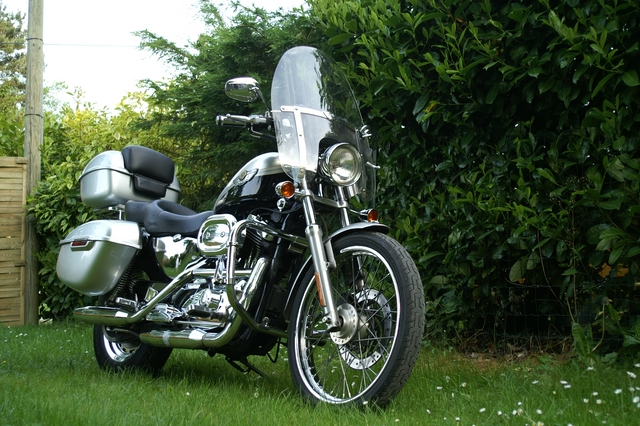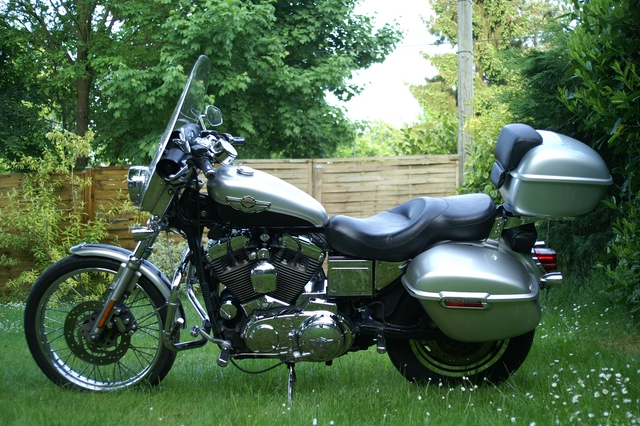 Pour finir, voici le modèle du catalogue Harley qui m'a fait tant rêver en 2003.
Je crois que mon sportster n'a plus grand chose à lui envier.
To end, here's the model from Harley catalog which made me dream in 2003.
I think my sportster doesn't have so much to envy it.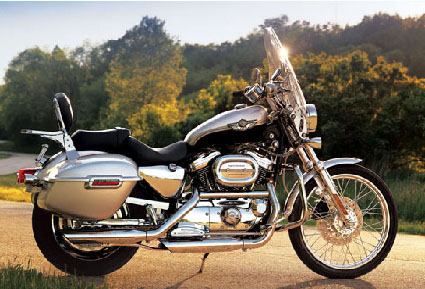 ...
...
...
Quelques temps plus tard, après avoir acheté aussi une Electra (FLHTCU 2003, mêmes couleurs), il ne me restait plus qu'à dépouiller le Sportster... et bien sûr à le garder !
Some times later, after have bought an Electra (FLHTCU 2003, same colors), I had to strip the Sportster... and of course keep it !
N'hésitez pas à entrer en contact avec moi si vous vous intéressez aux 1200 C : mailto:hd@jeauffroy.com.
Do not hesitate to : mailto:hd@jeauffroy.com.
Retour à la page d'accueil Harley 1200 Custom.